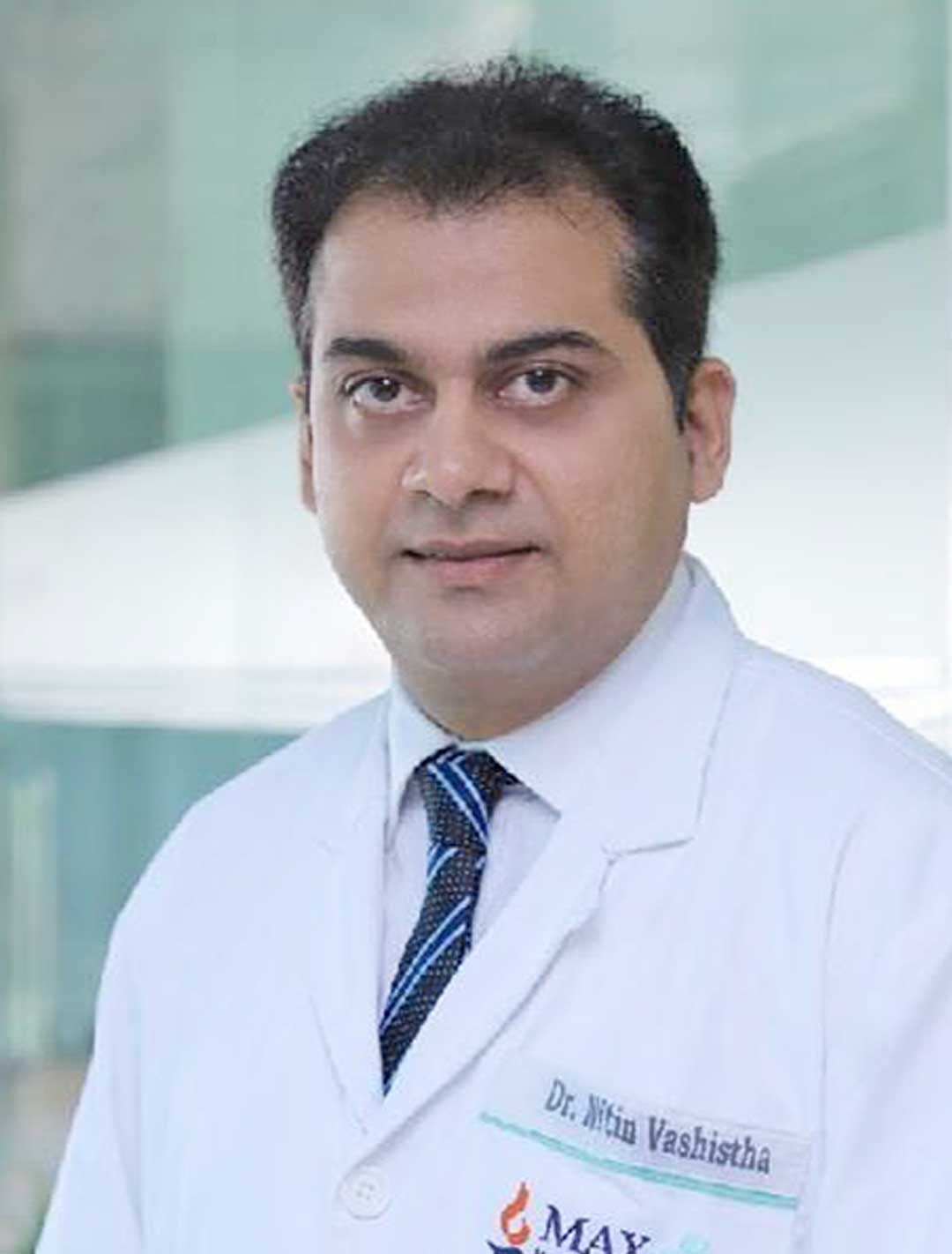 Dr. Nitin Vashistha
MBBS, MS (Surgery), FIAGES, FACS
Advanced training in Robotic Colorectal Surgery, Severance Hospital, Seoul, South Korea
Principal Consultant
Department of Surgical Gastroenterology, Max Super Speciality Hospital, Saket, New Delhi
Dr. Nitin Vashistha is an alumnus of SMS Medical College, Jaipur – one f the finest such institutions in India. He then did his six years training in eneral Surgery – Masters (3 years) from S.P. Medical College, Bikaner followed y Senior Residency (3 years) from Safdarjung Hospital, Delhi till 2011.
Dr. Nitin Vashistha has keen interest in advanced digestive tract surgery and joined our team in the year 2011 at PSRI Hospital for liver,kidney and digestive diseases, New Delhi as Attending Consultant. He has been an invaluable member of team ever since.
In the year 2012, as one of the founding members, Dr Vashistha actively participated in establishing the Department of Surgical Gastroenterology, Max Super-speciality Hospital, Saket, New Delhi. In this role he helped formulate departmental policies and protocols and also set up audits to monitor the post surgical mortality, morbidity and hospital readmission rates.
Dr. Nitin Vashistha is a fine surgeon with in-depth knowledge of nuances of advanced digestive tract surgery – both open and laparoscopic. He is keen to embrace innovation and has been instrumental in establishing robotic surgery in the department. He further went to Severance Hospital, Yonsei University, Seoul for advanced training in Robotic Colorectal Surgery.
Dr. Nitin Vashistha has several important public health / scientific contributions to his credit. He has been a member of the Government of India committee that formulated clinical pathways for performance of cholecystectomy, appendicectomy and inguinal hernia surgery. These pathways could be considered similar to NICE guidelines in the UK. He also has several publications in peer reviewed international journals and has presentations at International conferences as well.
For his contributions to the speciality Dr. Nitin Vashistha has won several accolades, the most notable being Fellowship of American College of Surgeons (2017) and Max Healthcare Award for Clinical Excellence (2017).
Memberships:
Member Society of American Gastrointestinal & Endoscopic Surgeons (SAGES)
Member, American College of Surgeons (ACS)
Member, International Hepato-Pancreato-Biliary Association
Life Member Association of Surgeons of India
Life Member Indian Association of Gastrointestinal Endo Surgeons
Awards & Honors:
Max Healthcare Award for Group's Most Promising Innovation in Core Operational Process, 2018
Max Healthcare Susruta Award for Clinical Excellence, 2017
Fellowship of American College of Surgeons, 2017
Max Super Speciality Hospital GEM Award, 2014
Co-investigator – FICCI, World bank & Ministry of Labor committee 2015 for development of clinical pathways for common surgical conditions for National Health Insurance Scheme
Presentations at prestigious International Scientific Conferences such as:
United European Gastroenterology Week, Vienna 2016
World Congress of International Hepato-Pancreato-Biliary Association, Geneva 2018
Publications:
Several publications in leading international journals such as Gastroenterology, British Journal of Surgery, Journal of American Medical Association (JAMA) Surgery, Gastrointestinal Endoscopy, World Journal of Surgery