Background
A recent multicenter study from 7 major hepato-biliary centers in the USA & Europe reported that 421 patients underwent curative hepatectomy for NELM over 24 years (1990-2014).1 At our center over last 7 years (2013 -2020), we managed 18 patients with digestive tract NET (Table 1). liver metastases
Table 1.  Digestive tract NET patients (2013 – 2020)
| | | | |
| --- | --- | --- | --- |
| S.no | Primary Site | Number of Patients | NELM |
| 1. | Pancreas (Non functional) | 4 | 2 |
| 2. | Pancreas (Functional) | 3 | 0 |
| 3. | Ampulla of Vater | 2 | 0 |
| 4. | First part of duodenum | 5 | 0 |
| 5. | Small intestine | 4 | 2 |
| | Total | 18 | 4 |
In the following sections we present our experience with PNET undergoing treatment for NELM at our center.
Representative Case Report
A 53 year old woman was investigated for pain left upper quadrant. Following investigations which included contrast enhanced abdominal CT scan, serum chromogranin levels (within normal limits) and DOTA – PET, a diagnosis of PNET was made. She underwent laparoscopy assisted distal pancreatectomy with splenectomy (Figure 1).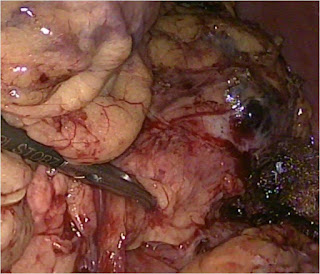 Figure 1. Laparoscopic view showing large tumor in distal pancreas
Biopsy details are provided in Table 1. During follow up (abdominal CT scan, DOTA –PET), 14 months later she was found to have solitary large liver metastasis in segment 2& 3 (Figure 2) for which left lateral segmentectomy was done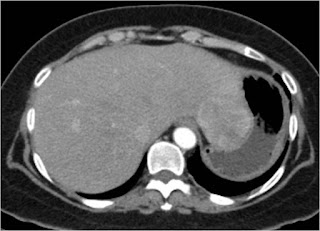 Figure 2. CT scan abdomen depicting large NELM in segments II & III of liver
Subsequently after 1 year, she developed multiple (at least 8 in number) NELM in segments 4,5,6,7,8 (Figure 3)for which transarterial chemoembolization (TACE) has been done.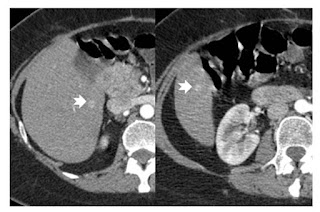 Figure 3. CT scan abdomen revealing multiple NELM (marked by arrow)
During last 7 years, we have managed 6 other patients with PNET. The details of all the 7 patients are summarized in Table 2.
Table 2. PNET patients and their follow up
No.

Age &

Sex

Presentation

Diagnosis

Tumor location & size (cm)

Procedure

AJCC Stage

Tumor grade

Ki-67 (%)

FU

1

61yr,

Male

Weight loss

10 kg in 1 yr

Nonfunctional

PNET

Proximal body

4×3 cm

Distal pancreatectomy+ splenectomy

(DP + S)

pT1N1

G2

3%

NELM

22 mo

PO

2.

60 yr, Female

Incidentally detected

Nonfunctional

PNET

Distal body

1.5×1 cm

Distal pancreatectomy

pT1N0

G1

<1%

5 yr

Well

3. *

53 yr, Female

Pain abdomen

Nonfunctional

PNET

Distal body

9×6 cm

DP + S

pT1Nx

G2

6 -8%

NELM 14 mo

4.‡

28yr

Male

Recurrent

hypoglycemia

Insulinoma

Distal body 3×2 cm

DP + S

pT2N0

G 1

<1%

6 yr Well

5.**

37yr

Recurrent

hypoglycemia

Insulinoma

Body

3×2.8 cm

DP + S

pT2N0

G1

<2%

5 yr

Well

6. **

60 yr

Recurrent hypoglycemia

Insulinoma

Proximal body

2×2 cm

Enucleation

pT1Nx

G1

<2%

4 yr Well

7.

51 yr

Incidentally detected

Nonfunctional PNET

Body

3×2 cm

DP+S

pT2N0

G1

<2%

6 yr Well
Vashistha N, Aggarwal B, Singhal D Gastroenterology2016;151:43-44
* Details provided in case report
** https://gicancerindia.blogspot.com/2020/03/benign-insulinoma-enucleation-or.html
Discussion
Of the patients presenting with NELM, non PNET primary (e.g. small bowel, rectum, and bronchus) source is more common as compared to PNET.1
Resection with curative intent is currently the treatment of choice. However almost half of the patients are likely to develop recurrent disease. Risk factors for early (defined in one study as < 3 years) recurrence include PNET, lymph node positive primary tumor and R1 resection.2 The same study reports that re –treatment with curative intent provides significant survival advantage when compared to non curative treatment.
For patients with unresectable NELM, parenchyma sparing procedures (ablation, enucleation, wedge resections) with target threshold of 70% debulking with resection of primary is reported to improve progression free and overall survival.3
In the surgical series, PNETs are more common in 6th decade, in females and in body and tail of pancreas and more likely to be nonfunctional.1,4,5 Nonfunctional  PNETs are more likely to present with NELM.1 In a study involving 542 patients who underwent resection for PNET, the median time to recurrence was 19 (range 0.8 – 236.3) months, overall recurrence rate was 13.7% with liver being the most common site of recurrence. The 5 and 10 year survival in this study was 86.4 % and 81.3% respectively.6
The independent predictor for recurrent disease for PNET include non functioning tumors, tumor grade, node positive primary and vascular invasion.5 A recent study of NELM in small (< 3 cm) well differentiated PNET reported that molecular alterations such as DAXX mutations, chromosomal gains and alternative lengthening of telomeres (ALT) are associated with increased risk of metastasis.7
References
 1.      Spolverato G, Bagante F, Aldrighetti L et al. Neuroendocrine liver metastasis: Prognostic implications of primary tumor site on patients undergoing curative intent liver surgery. J Gastrointest Surg 2017;21(12): 2039-2047
 Zhang XF, Beal EW, Chakedis J et al. Early recurrence of neuroendocrine liver metastasis after curative hepatectomy: Risk factors, prognosis and treatment J Gastrointest Surg 2017;21:1821-1830
 Maxwell JE, Sherman SK, O'Dorisio et al. Liver directed surgery for neuroendocrine metastases. What is the optimal strategy? Surgery 2016;159(1):32-33
 Zhou B, Duan J, Yan S et al. Prognostic factors of long term outcome in surgically resectable pancreatic neuroendocrine tumors. Oncol Lett 2017;13(3): 1157-1164
 Landoni L, Marchegiani G, Pollini T et al. The evolution of surgical strategies for pancreatic neuroendocrine tumors: Time trends and outcome analysis from 587 consecutive resections at a high volume institution. Ann Surg 2019;269(4):725-732
 Kim H, Song KB, Hwang DW et al. Time trend and recurrence analysis of pancreatic neuroendocrine tumors. Endocr Connect 2019;8(7):1052- 1060
 Pea A, Yu J, Marchionni L et al. Genetic analysis of small well differentiated pancreatic neuroendocrine tumors identifies subgroups with differing risks of liver metastases. Ann Surg 2020;271(3): 566-73
Authors:
Dr Nitin Vashistha, MS, FIAGES, FACS
Dr Dinesh Singhal, MS, FACS, DNB (Surg Gastro)
Department of Surgical Gastroenterology,
Max Super Speciality Hospital, Saket, New Delhi, India
E mail: gi.cancer.india@gmail.com